What's inner envelope addressing? That's a great question with a unique history! Inner envelope addressing (which is a service we offer in calligraphy) refers to an envelope that contains an invitation sitting within an envelope containing an address.
The biggest difference between outer and inner envelope addressing is the inclusion of an address.
For an inner envelope, the addressing is typically 1-2 lines, and would include each invited guest. It would not include a postal address, return address, or stamps. This lets the outer envelope be more of a utility for sending the mail, and the inner envelope to be protected from damage. A formal invitation includes both inner and outer envelope addressing.
Protecting your invitation suite
One of the most obvious benefits of an inner envelope is protection from the elements for your invitation suite and ensuring its safe arrival.
It is also more clear for the postal service, as sometimes calligraphy can be hard for postal machines to read. This is something you may want to consider for international postage. If you want to get something with a handmade, custom feel but outer-envelope calligraphy is out of your budget, look into inner-envelope calligraphy.
Clarifying guests
Another benefit to an inner envelope is the ability to clearly specify guests. This is especially important in the era of smaller-sized weddings and increased adult-only events. With an inner envelope, you have the opportunity to identify individuals more clearly than on an outer envelope, where space conflicts with a guest address. Being more specific here could avoid confusion for your guests as they RSVP and plan for your event.
Highlighting details
If you want to include an envelope liner or wax seal, an inner envelope may be a good choice to preserve these items and make sure they are seen. This is because in the postal service, wax seals on outer envelopes cause issues in the mail and can dislodge. Additionally, to prevent someone from tearing open your beautiful invitation envelope and missing the inner envelope liner, you could package your invitation up without sealing an inner envelope, ensuring the full effect is seen.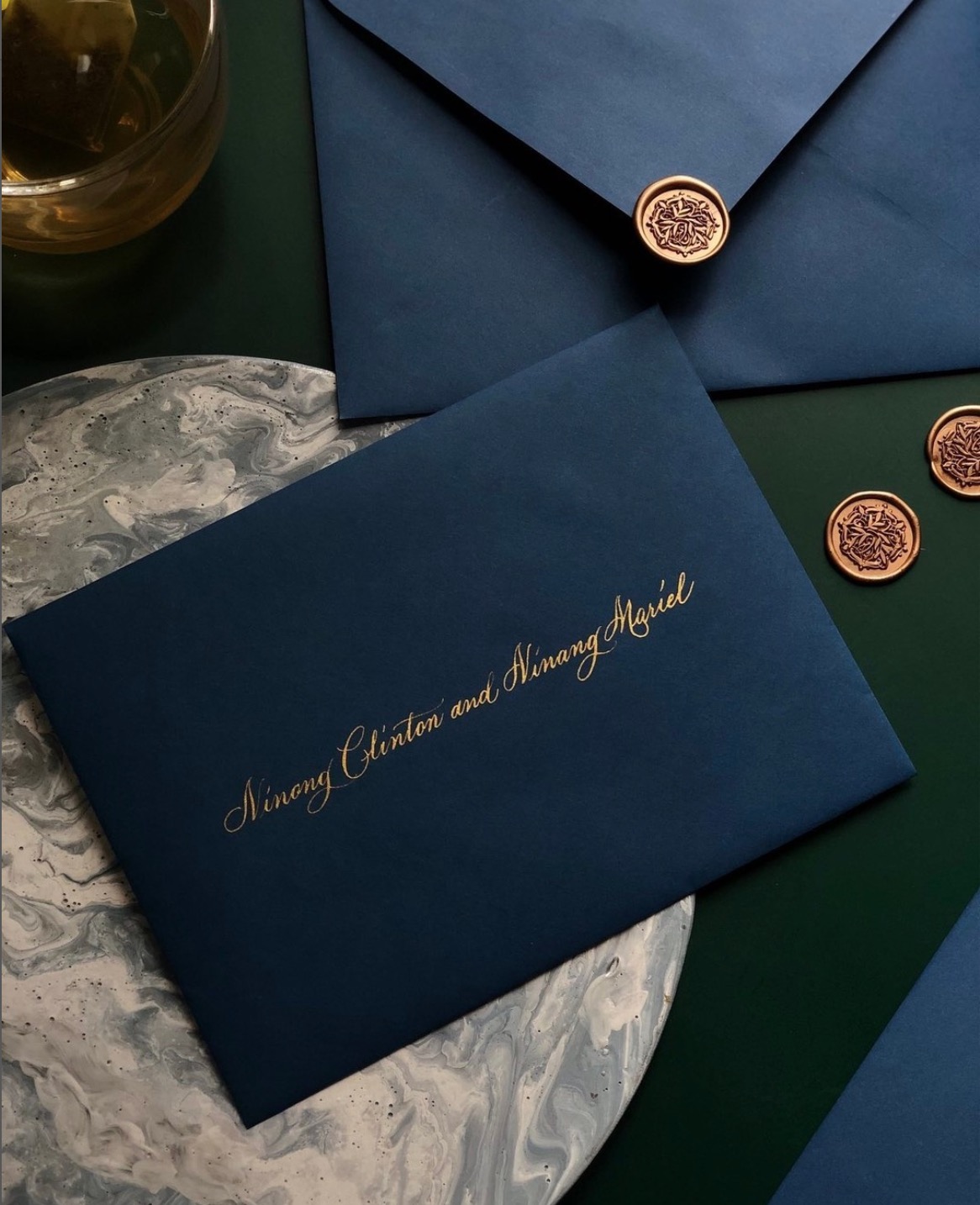 Cost Effective
A benefit of inner-envelope addressing is that its often more affordable than outer-envelope calligraphy if you want a luxurious hand-lettered element for your invitation suite. Outer envelope calligraphy tends to cost more because it includes more lines (typically 4), whereas inner envelope calligraphy doesn't require an address and zip code, so it's usually 2-4 lines.
For example, our current pricing for outer envelope calligraphy starts at $3.00/envelope, while inner envelope calligraphy is $1.75. This is a cost savings of at least $1.25/envelope. Let's break that down for 120 envelopes:
$1.25 savings x 120 = $150
-$0.30/envelope for A7.5 envelopes x 120 = $36
Total savings: $114
You'll still need to spend time writing or printing addresses, but you get a more formal look overall with hand-lettered professional calligraphy for less.
If you still want to have professionally hand-lettered calligraphy for your invitation suite, while cutting some costs, inner envelope calligraphy could be a good option for you.
Envelope Sizes
When using inner and outer envelopes, it's important to remember that you'll need to account for differing envelope sizes. You can't put an A7 envelope inside another A7 envelope. To alleviate that, there are half-sized envelopes, like these A7.5 envelopes. These outer envelopes should be slightly bigger (by about a quarter inch) than the inner envelopes, which should in turn be slightly bigger than the invitation suite itself.
If you had a traditional 5x7" invitation set, a typical A7 envelope size would be around: 5.25" x 7.5", and a typical A7.5 outer envelope size would be around: 5.5" x 7.75". These vary by manufacturer, but be sure to check the sizes for a good fit.
I hope that helps you understand the differences between inner and outer envelopes, as well as some of the benefits of having both! Feel free to reach out if you have any questions.